There are close to 500,000 small businesses in New Zealand, employing 30 per cent of the population. It goes without saying, small
businesses are the backbone of our economy. On top of playing a major part in driving the economy, owners play a huge role in ensuring
both they and their employees enjoy healthy, happy lives.
Our recent Mental Health Report revealed that this was one area where small business owners need more support.
Did you know?
Nearly half of small business owners have
experienced a mental health condition.
But only 1 in 4 will actually seek help.
31% of small


business owners experience a mental health issue

70%

say stress from their business has a impact on other aspects of their life and relationships

65%

sometimes lose sleep at night because they're thinking about their business
Managing business finances
32%
Juggling multiple responsibilities
26%
As rewarding as it can be, running a small business also brings with it a range of challenges. This includes
the stress of managing finances, no work-life balance, juggling multiple roles, and the feeling of
responsibility for the success or failure of the business.
We want to make mental health everyone's business
We've partnered with Smiling Mind to deliver a Small
Business Program to support the mental, emotional
and physical wellbeing of small business owners.
What is Smiling Mind?
Smiling Mind is an app-based meditation program
developed by psychologists and educators to help bring mindfulness into your life.


The Small Business Program
Developed in partnership with MYOB, the Smiling Mind
Small Business program features activities and resources
to support business owners. Through mindful meditations,
learn to manage stress, develop better relationships and
build resilience.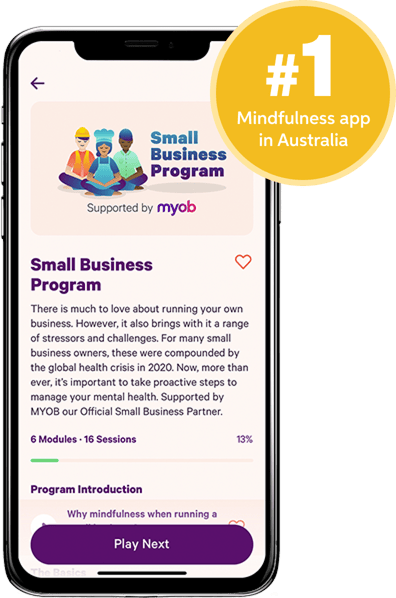 Mindfulness Foundations
Learn to become more present, open and non-judgemental.

Stress Management
Learn how to manage stress more effectively.

Relationships
Learn how to connect more meaningfully with others.

Resilience
Learn to navigate challenges and come out stronger.
Discover more about the importance of mental health in the workplace